18 May 2021
5-Steps for Advancing a Career on YOUR OWN TERMS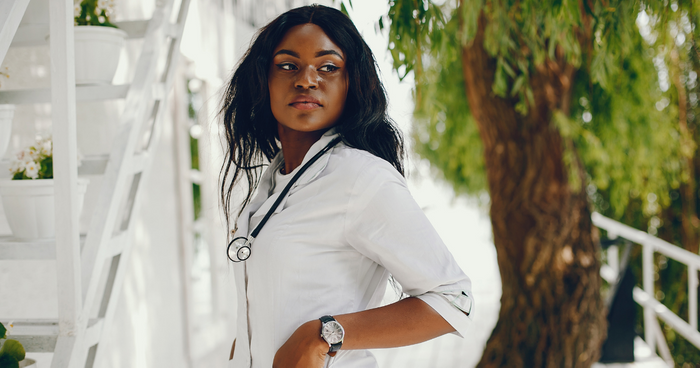 Many of us believe we were "called" to the veterinary profession. Our love and compassion for animal welfare runs deep in our souls. A plethora of evidence-based career advice in both business and psychology literature supports the conclusion: Yes indeed, employees who are passionate about what they do will be both happier and more productive at work.
Here lies the dichotomy: How can a group of professionals feeling called into this line of work because of their passion and love for animals become so disillusioned and miserable in clinical practice?
With a suicide rate higher than almost any other profession, many practicing veterinarians are burned out, leaving clinical practice in ≤ 7 years and flocking toward veterinary positions geared toward indirectly helping pets and pet parents (pharma, food, teaching, writing). Even worse, many veterinarians are leaving the profession altogether for other industries outside of veterinary medicine.
Change starts by thinking "outside the box." It is okay to have a "kaleidoscope career" - professional happiness for many of us doesn't necessarily fit into the classic W2 Full-Time-Plus Associate Employee role and all this role traditionally implies. Harness your entrepreneurial spirit! What about veterinary medicine makes YOU happy? How can you do more of what you want to do and less of what you do not? Decide what you NEED from an employer versus what you can possibly provide yourself.
Here are 5-STEPS you can take right now to help you get what you need out of your career.
1. NETWORK, NETWORK, NETWORK
Start building your connections both inside and outside of veterinary medicine. Consider joining organizations such as VetPartners™. You never know when you will meet someone who introduces you to a fantastic new opportunity. Utilize social media (Facebook, Twitter, Instagram, LinkedIn, NextDoor). There are a plethora of veterinary and industry groups out there. I have made some amazing contacts through my LinkedIn profile. I also have learned many innovative ideas on Facebook veterinary groups such as The DVM Project Career Discussion Group. Consider joining Relief Rover, an online freelance veterinary relief community providing support, kinship, ideas, and connection for job and employee searchers alike.
Start listening to veterinary podcasts. Better yet ask to be a guest on an upcoming episode. If you like to write, consider starting a blog or reaching out to veterinary content providers (Vet Shows US, DVM360®, Clinician's Brief®, Today's Veterinary Practice).
2. Get comfortable with technology
We know technology is never going away. We need to embrace it – because if we do not – we are going to lose our seats at the "decision-making" table. Both opportunity and income potential are out there online, often allowing you to "practice at home in your sweatpants" and be paid for your time, knowledge, expertise, and skill sets. Research and experiment with different veterinary apps and software as well as the plethora of business applications and programs available. The more firsthand knowledge and experience you gain, the more tools you have in your toolbox to offer potential employers.
3. Load up on CE
And not just veterinary CE – try to broaden your knowledge base. Look into business, communication, organizational development, leadership, IT, or marketing CE as well. If you are currently with an organization providing a CE stipend, be sure not to let even a penny go to waste. It is amazing how many free CE or lower cost resources exist, especially online. Some free sites I love are Vet Show Academy, Think Anesthesia®, Clinician's Brief®, DVM360®, and SonoPath Education.
Lower-cost options include Vet Show @ Home (a free online conference where you can earn up to 20 complimentary credits), IGNITE Veterinary Solutions (started by a close colleague Dr. Jill Clark), or VETGirl, LLC. Many specialty clinics and industry corporations offer free CE and learning opportunities. These events are also an excellent chance to network and get your name out there. As a LinkedIn Premium member, you have access to hundreds of articles and videos on an array of business-related topics.
Food for thought…You do not NEED to be or become a boarded specialist to provide advanced quality care. As Brene' Brown would say, "Tell those gremlins inside your head to be silent!" Reach out to shelters, non-profits, or even high-volume low-cost facilities. Take advanced CE courses in surgical and dental procedures, or even ultrasound. Ask your current employer to pay for a course and explain the benefit and ROI potential. Or better yet, use the CE to prepare you for YOUR next professional opportunity. Another bonus – you naturally broaden your professional network!
4. Start your own business and brand
Make a name for yourself, as name recognition is imperative. Use online legal entities (i.e. LegalZoom® or Rocket Lawyer®) to set up an LLC both quickly and inexpensively. If you already use a lawyer or accountant, reach out to them for advice.
Start a website – both Wix.com, Inc and GoDaddy.com, LLC have free options to get you going. Even better, consider hiring a veterinary-specific web designer such as Powprint, owned and operated by fellow veterinary colleague Mariam Kamal!
Stand out by purchasing a domain name (i.e.: drlisamausbach.com) and linking your email address. Explore SCORE Association's Small Business Services, where you can also find a business mentor. Open a merchant vending account (such as MWI Animal Health®, Patterson® Veterinary, Midwest Veterinary Supply) – allowing you the opportunity to purchase veterinary products. What services do you want to offer? Can you find a veterinary practice allowing you to lease or rent exam room space? Can you offer services to pet parents through other avenues such as a grooming facility or doggie daycare?
5. Become an "opportunist"
Do everything possible to capitalize on available connections, opportunities, and resources. You will be so grateful that you did! Ask a person to coffee or lunch (perhaps a virtual coffee?!). I cannot emphasize enough the importance of connections. Ask LOTS of questions. Take notes. Try something completely out of your comfort zone. Never practiced relief work, shelter medicine, HVHQSN, or worked for a non-profit? Go try it! If you are interested in getting into the lecture circuit, join a public speaking group such as Toastmasters International®. Opportunities are endless when you look for them. New experiences will make you grow as both a person and a professional. As a bonus, these opportunities will look great on a professional portfolio!
So, what are you waiting for? We have worked so hard and sacrificed plenty to earn the title of VETERINARIAN. The hardest step is the first step: BE BRAVE! Stop giving your time and energy away. Learn to optimize and capitalize on your own knowledge, skill sets, and hard work. Yes, YOU deserve it!
We can't wait to see you once again or for the first time at the third edition of Vet Show @ Home! On June 21-23, join the veterinary community in the biggest online event of the year. Earn up to 20 CE credits, gain access to a variety of content from top speakers, networking opportunities, and so much more. 100% FREE. Register today to save your spot!
-
For press inquiries, please contact i.perlman@closerstillmedia.com