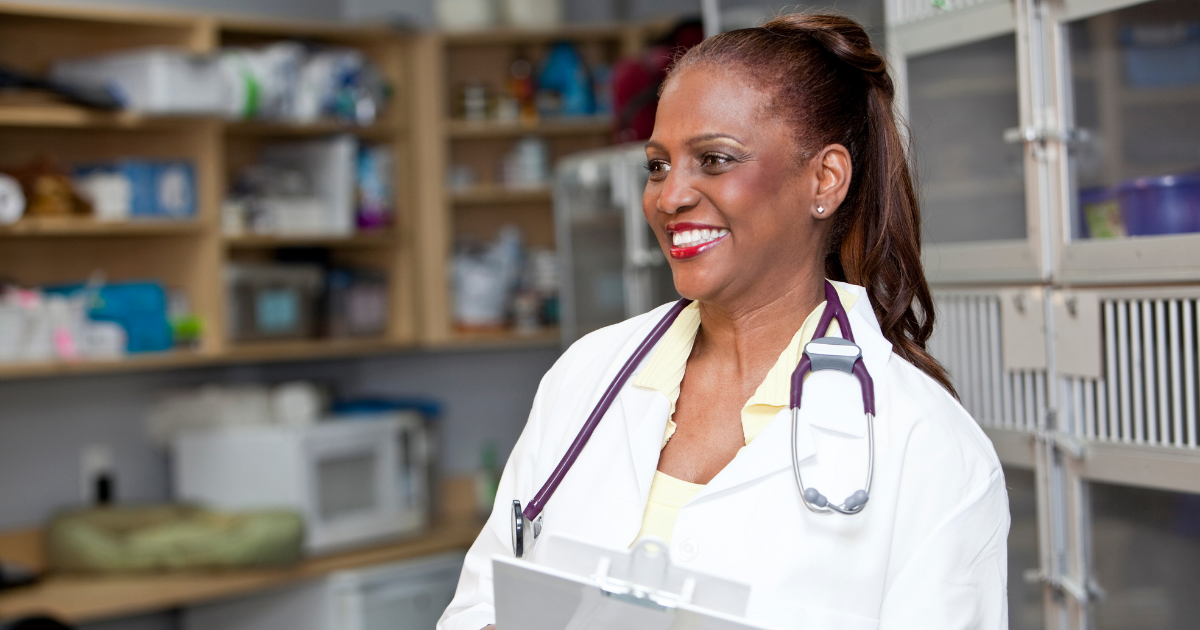 Every February since 1976, the US has proudly celebrated Black History Month by honoring African American achievement and their central role in history.
Racial diversity in veterinary medicine is nowhere near perfect and there is still a lot of work to be done to create a more inclusive community. Looking at the history of African Americans' achievement in the field helps us understand the importance of continuing to strive for diversity.
Dr. Augustus Lushington (1869-1939)
Born in Trinidad and the son of a slave, Dr. Augustus Lushington was the first Black male to earn a DVM in the US. He moved to Binghamton in 1889, graduated pre-med from Cornell, and in 1897 finished the University of Pennsylvania's veterinary program 3 years later as the first Black graduate. He settled down in Lynchburg, Virginia (despite racial tension) and treated cows, horses, and other livestock. One source says he would walk miles to lend his services, but would often be refused pay by White farmers during a time when taking legal action wasn't even an option for people of color. Dr. Lushington worked several jobs to make ends meet for his family and never retired until his day of passing. He is known as a pioneer in veterinary medicine and even has personal items housed in the Lynchburg Legacy Museum of African American History.
Dr. Frederick Douglass Patterson (1901-1988)
Perhaps the most notable person of color in the veterinary field, Dr. Patterson advanced the recognition of African Americans not only in veterinary medicine but in the overall education system as well. According to the United Negro College Fund (UNCF), which he founded in 1944, Dr. Patterson did not have an easy childhood from being orphaned at age 2, to being voted least likely to succeed in 8th grade. He went on to receive three degrees in 9 years and became a professor as well as the third president at Tuskegee University, whose veterinary medicine program allowed southern African Americans the only opportunity to become veterinarians in that region of the US. To this day, Tuskegee has graduated about 70 percent of our nation's Black veterinarians. Dr. Patterson's involvement in higher education influenced the creation of the UNCF, community colleges, and greater institutional support to smaller schools. His legacy lives on to this day.
Dr. Jane Hinton (1919-2003)
Dr. Jane Hinton was one of the two first African American women to graduate with a VMD degree (Dr. Alfreda Johnson Webb was the other). Before them, there had only been 4 other VMD graduates, and it wasn't until almost 20 years later until there was another. Dr. Hinton paved the way for women not just in veterinary medicine, but all medicine. Through her father, a Harvard Medical School professor and, according to a piece on BlackPast by Hilda Bastian, "one of the most prominent African American medical researchers of his era," Dr. Hinton had the opportunity to work as a lab assistant to John Howard Mueller. Ultimately, she helped to develop the Mueller-Hinton agar, "a culture medium in which bacteria can thrive. It has become one of the standard methods used to test bacterial resistance to antibiotics," Bastian notes. After graduating from the School of Veterinary Medicine at the University of Pennsylvania, Dr. Hinton became a veterinarian in small animal medicine, as well as a federal government inspector for the Department of Agriculture, where she helped progress research and response to livestock disease outbreaks. She had an early retirement and spent the rest of her days caring for her garden and household pets.
This brief history of African Americans in veterinary medicine makes it loud and clear that the color of a person's skin has no effect on what is possible to achieve. These figures are leaders in the field no matter their race and will be remembered for years to come; but with increased diversity in veterinary medicine, we open the doors to further achievement for all.
Join us at the second edition of Vet Show @ Home, Thursday-Saturday, March 25-27th. Gain access to over 90 hours of content from top speakers, networking opportunities, the chance to earn up to 20 CE credits, and so much more. 100% FREE. Register today to save your spot!
_
For press inquiries, please contact i.perlman@closerstillmedia.com
News for You
Your search returned no results