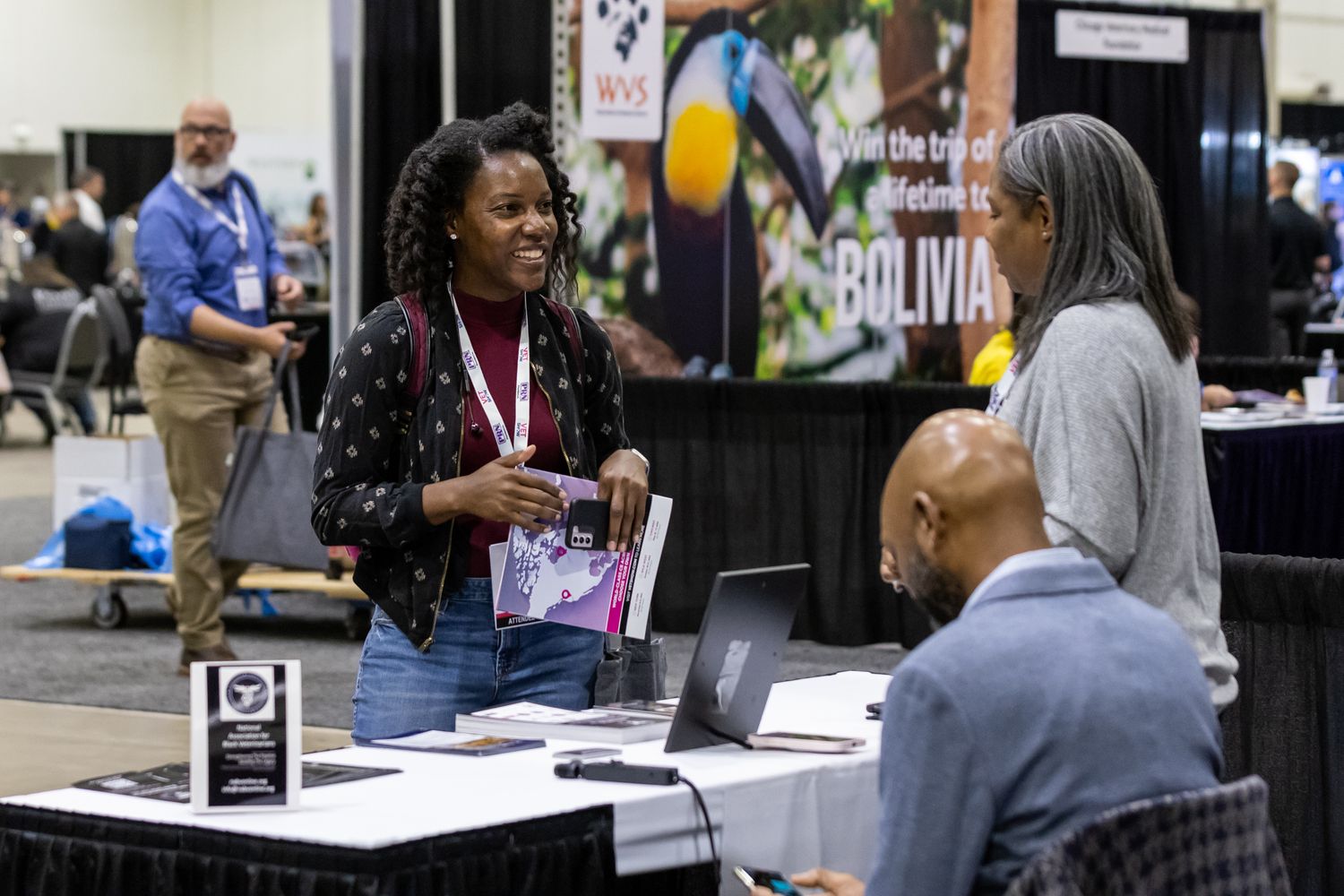 Chicago Vet Show at Navy Pier Delivers a Pawsitively Successful Event in 2023
Chicago, IL - May 22, 2023 - The Chicago Vet Show, a premier 2-day veterinary conference, took place at Navy Pier on May 18-19, offering an exceptional learning and networking experience for veterinary professionals from across the country. Produced by CloserStill Media, this year's event showcased a diverse range of specialized tracks, providing attendees with continuing education (CE) in various fields of veterinary medicine.
"We are thrilled to have provided a platform for veterinary professionals to expand their expertise and engage with peers in the industry," said April Walsh, Vice President of the US Vet Show. "By offering a wide range of CE tracks, we aimed to cater to the diverse needs of the veterinary community and facilitate their continuous professional development."
The interactive Wet Labs provided attendees with hands-on learning opportunities, allowing them to practice their techniques under the guidance of trained professionals. This practical experience enabled participants to enhance their skills and gain confidence in implementing new techniques as they returned to their practices.
The Chicago Vet Show wasn't just about learning; it also offered plenty of opportunities for networking and fun activities. Attendees had the chance to meet with peers from around the country, explore products and services from over 125 exhibitors, and participate in various activities within the Windy City.
"We are proud to have brought together veterinarians, veterinary technicians, practice managers, owners, and industry professionals for an amazing few days in Chicago that provided practical training, CE programs, and nautical networking opportunities," expressed Joseph Kowalsky, Event Director of the Chicago Vet Show.
The show demonstrated its commitment to supporting the veterinary and pet communities by partnering with PAWS Chicago for the second consecutive year, donating funds, supplies, and creating hundreds of dog toys for their shelter animals.
The event also featured an unforgettable Opening Night Party aboard the Spirit of Chicago cruise boat, offering attendees a magical night with breathtaking views of Lake Michigan.
In addition to the educational programs, the Chicago Vet Show provided attendees with unique on-site experiences. The Wolfpack Walk on Navy Pier, allowed participants and their furry companions to embark on a scenic walk along the pier, enjoying the fresh air and the company of fellow members of the Chicago Vet Community. Regis Regal also contributed to the event by bringing a pack of pups ready to make new friends, ensuring an unforgettable bonding experience for all.
The Vet Show Spa offered attendees a chance to relax and recharge with 15-minute chair massages, providing a rejuvenating break from the educational sessions. Meanwhile, the Animal Arcade on the show floor allowed participants to indulge in animal-themed games in a free-to-play arcade, combining entertainment with educational engagement.
The Paw-er Up Lounge, sponsored by VIN, served as a haven for attendees seeking a moment to recharge themselves or their electronic devices. Equipped with charging cables and phone lockers, the lounge provided a convenient solution to ensure attendees had the necessary energy and connectivity to make the most of the event.
One of the highlights of the Chicago Vet Show was the giveaway of a trip for two to Bolivia in partnership with Worldwide Veterinary Service (WVS). Attendees had the opportunity to win this exciting adventure by collecting stamps from exhibitors using a personal passport found in their show bag. The winner and a guest will assist La Sende Verde, one of WVS' supported charities, which focuses on providing treatment to animals rescued from illegal trafficking or habitat destruction. By participating in this charitable endeavor, the winner will contribute to La Sende Verde's mission of giving these animals the care they need, all while enjoying the wonders of Bolivia and applying their veterinary skills for good.
With an emphasis on comprehensive education, the Chicago Vet Show ensured that every member of a veterinary practice could learn and grow together. The conference boasted an impressive lineup, with over 40 speakers delivering 77 classes covering a wide array of topics. From clinical sessions on anesthesia, gastroenterology, and orthopedics to veterinary nursing and business management, attendees had the opportunity to enhance their skills and knowledge across distinct aspects of veterinary practice.
For more information about the Chicago Vet Show and upcoming events, please visit https://us.vetshow.com/chicago
Media Contact:
Shanna Allen
Senior Marketing Manager
US Vet Show
s.allen@closerstillmedia.com
ABOUT CLOSERSTILL MEDIA
CloserStill Media recently was awarded the Stickiest Show Floor designation for NY Vet from Trade Show Executive, honoring the best strategy for keeping attendees on the show floor. The online conference, Vet Show @ Home also was named Best Virtual-Hybrid Experience at the Trade Show News Network awards. CloserStill Media has built an exemplary reputation with a focused portfolio operating best-in-class events throughout Europe, the United States (U.S.), and Asia. The group, which has over 400 employees, delivers events across a range of dynamically growing industry verticals including corporate learning and HR, enterprise technologies, eCommerce, healthcare, and veterinary. CloserStill Media has experienced substantial growth since entering the U.S. market in 2017 through the launch of New York Vet (+ 2 regional shows), as well as the acquisition of LearningGuild (formerly FocusZone) in 2018 which established the group as the biggest provider of corporate learning and learning technology events in the US. CloserStill Media also acquired a majority investment in the Influence Group, which provides hosted leadership retreats for C-level executives. The Influence Group events continue to expand with 4 additional events being added to the portfolio through 2023. Most recently, in January, CloserStill Media announced a majority investment in CommerceNext, the leading U.S e-commerce conference, and community.
News for You
We're sorry, but we couldn't find any results that match your search criteria. Please try again with different keywords or filters.