24 Feb 2022
First-Ever Austin Vet Show to Take Over Austin Convention Center April 5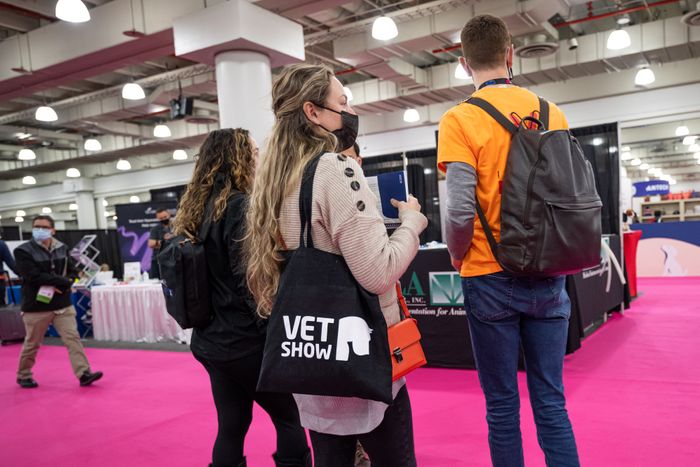 NEW YORK, February 24, 2022 – The US Vet team eagerly awaits the launch of its first-ever Austin Vet, a 2-day educational veterinary conference, at the Austin Convention Center on April 5-6, 2022 in Austin, TX. With learning options for all veterinary practice employees, Austin Vet will safely gather attendees for the opportunity to continue their education, learn about new and innovative products, as well as network with veterinary industry peers.
"We're looking forward to bringing the veterinary community together to experience all that Austin Vet has to offer," said Christina Zoccoli, Group Event Director, US Vet Shows. "From veterinarians and vet techs in need of RACE-approved CE to practice managers wanting to nurture their business, the show will offer innovative, well-rounded content for all veterinary professionals."
The Austin Vet event will feature veterinary subject matter from industry thought leaders in a multi‑theater program, providing veterinary professionals with a conference experience and comprehensive continuing education (CE) program. In addition to two separate three-hour wet labs sponsored by Johnson & Johnson, there will be a total of 17 CE credits that can be earned through the American Association of Veterinary State Boards' (AAVSB) Registry of Approved Continuing Education (RACE). Highlights include:
Canine Inflammatory Brain Disease: Who, What, Why? (Clinical)
Speaker: Heidi Barnes Heller, Neurologist - Barnes Veterinary Specialty Services, LLC
Granulomatous meningoencephalitis (GME), was the traditional term used to describe inflammatory brain disease in dogs. We have a much greater understanding of the different pathologic subtypes including, necrotizing meningoencephalitis (NME), necrotizing leukoencephalitis (NLE) and GME however the search continues to find the etiology. Genetic markers have identified specific breeds to be a risk of development of disease but what triggers the development in these prone animals? We will discuss specific triggers that have been evaluated including environmental triggers. We will review recent advances in therapeutic options, diagnostic testing and prognostic indications for dogs diagnosed with inflammatory brain disease.

Laboratory Diagnosis of Immune-Mediated Hemolytic Anemia (Clinical)
Speaker: Holly Brown, Clinical Pathologist - VCA Metzger Animal Hospital
Diagnostic blood work and its proper interpretation are vital in identifying Immune-Mediated Hemolytic Anemia (IMHA). In this case-based session, tips will be shared for in-clinic diagnosis of IMHA, including CBC and microscopic blood film review as well as ancillary diagnostic tests that further aid in the diagnosis.

Anesthetic Myths and Misconceptions (Vet Tech/Nursing)
Speaker: Heather Carter, Vice President of People and Culture - Partner Veterinary Emergency & Specialty Center
Anesthetic myths and misconceptions have reinforced outdated and inaccurate interventions. For example, why do we put water on the tongue to improve the SPO2? Why do we have a hard time speaking up with intimidating people? Why do we avoid drugs in some breeds but not others? This talk will teach you the vocabulary and methods to combat the myths that negatively impact the hard and soft skills you need to be successful and satisfied at work.

More Than Just Laser-The Many Modalities of Rehab (Vet Tech/Nursing)
Speaker: Ashleigh Fairfield, Owner, CEO - Beacon Veterinary
The discipline of physical rehabilitation is not limited to a single modality. In this lecture a variety of modalities, their indications, and their limitations will be discussed. Additionally, we will examine the importance of a proactive practitioner as a modality themselves.

How To Heal The Toxic Team (Business)
Speaker: Cyndie Courtney, Founder, CEO - The Jerk Researcher® LLC
In the face of other stressors, workplace toxicity can feel especially overwhelming. Learn where to start including 1) why behaviors must be addressed, 2) which to address first, 3) and how to address the unique challenges of trying to improve toxic behaviors.

Setting Healthy Boundaries for Sustainable Practice (Business)
Speaker: Laurie Fonken, Owner - Whole Vets LLC
Veterinary professionals are highly dedicated individuals who work hard to care for their patients, clients, colleagues, and communities. It is difficult for many to say no, to set healthy boundaries for self-care, especially when others are in need. The goal of this presentation is to make participants part of the care equation and give them a few tips to get started on setting boundaries which will add value to work and life, increase capacity to care in a healthy way, and support sustainability in the profession.
Additionally, the United States Department of Agriculture's National Veterinary Accreditation Program will be offering select modules of its APHIS Approved Supplemental Training which provide credit towards accreditation renewal. Over the two days of the Austin Vet Show, a total of 10 modules will be offered, including Foreign Animal Disease Detection in Category I animals, High-Impact Equine Diseases in the US, Animals Fitness to Travel and more.
Attendees will also be given the opportunity to hone their skills or learn new ones in sponsor-led workshops. Orthomed will be hosting two sessions, each including practical workshops, on Monday, April 4th, with one focusing on cranial cruciate ligament deficiency and the other concentrating on patellar luxation. Additionally, Johnson & Johnson will be hosting two hands-on labs on Tuesday, April 5th, which will educate attendees on suturing patterns and advanced knot-tying techniques used in veterinary surgical cases.
Produced by CloserStill Media, Austin Vet will take place at the Austin Convention Center in Austin, TX. To register and for additional information, visit https://us.vetshow.com/austin.
###
About CloserStill Media
CloserStill Media specializes in high value, content driven events and the nurturing of B2B or professional communities. The company operates chiefly in the healthcare and technology markets with events in London, Birmingham, Paris, Frankfurt, Hong Kong, Singapore and New York City. Our portfolio includes some of the fastest growing, and often award winning, events including the London Vet Show, Cloud Expo Europe, The Pharmacy Show, Learning Technologies and The Dentistry Show.
CloserStill is the fastest growing British exhibition organizer in international markets according to the eighth annual Sunday Times International Track 200. In addition, the Financial Times FT1000 Index named CloserStill the fastest growing exhibition organizer in Europe. CloserStill's ranking is the highest of any exhibition organizer since the Sunday Times Fast Track series inception.
In the last seven years, CloserStill has been repeatedly recognized as a leading innovator with its teams and events winning multiple awards (over 30 in total) including Best Marketing Manager—five years in succession—Best Trade Show, Best Launch Exhibition, Best Brand Extension, Rising Star—two years in succession—Best Operations Manager, Best Sales Person, Management Team of the Year and was voted 'Most Respected Company of the Year' at the 2016 Association of Event Organizers Excellence Awards.
Media Contact:
Nicole Francisco
Coyne Public Relations
973-588-2000
nfrancisco@coynepr.com