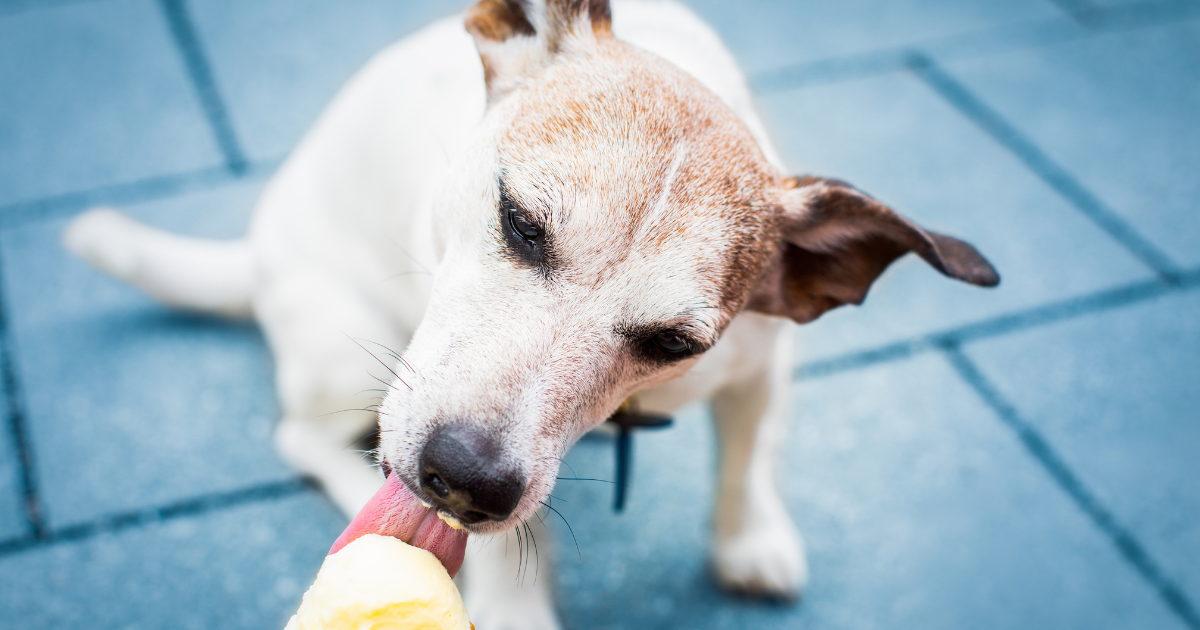 Watch out Americone Dream and Phish Food! Here comes Ameribone Dream and...well, just Phish.
Ben & Jerry's took the pet food industry by storm Monday by announcing their new line of ice cream for pups called "Doggie Desserts." These 4-OZ cups of frozen treats for fluffy will go on sale in U.S. grocery stores later this month–to be sold right next to the popsicles in the frozen aisle.
The treats currently come in two flavors: Peanut Butter & Pretzel Swirls and Pumpkin & Mini Cookies. These sound delicious (even for us) but what makes them safe for dogs to eat? And why this sudden move into the pet food market?
The creators say the treats are made from a sunflower butter base and "very limited amounts of dairy." Sunflower seed butter is better for dogs than butter made from milk or cream; and as for the additional dairy, vets have learned the hard way that some dogs can have intense reactions to dairy. Nevertheless, Ben & Jerry's says that the limited amount of diary used makes these treats perfectly safe for dogs to enjoy. In an interview with ABC News, Lindsay Bumps, CVT and global marketing specialist with Ben & Jerry's said that the company "consulted with a veterinary nutritionist, regulatory consultants, and others to make sure the treats are safe and easy to digest." Her recommendation is to go slow, with a spoonful at a time, and to put the treat in a bowl so it's easier for the pup to navigate.
If your client is curious about these treats, knowing the patient's digestive history will definitely factor into your recommendation on whether or not the treats are safe for their pet. Ben & Jerry's also notes that humans can try their new frozen desserts–as the ingredients are human-grade, too.
Doggie Desserts is Ben & Jerry's first venture into the pet food market, and you could say it was because they sniffed out an opportunity. The pet food industry is growing quickly, and according to the American Pet Products Association, "The number of U.S. households with pets rose 6.5% to 84.9 million between 2015 and 2020." The same study found that Pet Food & Treats leads the industry in U.S. market sales: in 2019 alone, pet food was a $36.9 billion dollar industry with estimations that it increased to $38.4 billion in 2020.
Ben & Jerry's isn't the first large company to pivot into the pet food sector. In the above-mentioned article, ABC News recalls the history: General Mills, makers of Cheerios and Haagen-Dazs, bought the Blue Buffalo pet food brand; J.M. Smucker Co. bought Big Heart Pet Brands, creators of Meow Mix and Milk Bone, along with Ainsworth Pet Nutrition; Nestle bought British natural pet food brand Lily's Kitchen and has owned Purina since 2001.
Clearly, even the big dogs want to get a bite of the pet food market, and time will tell how pets dig their new dessert. Whether you're a veterinarian or in the veterinary industry, what are your thoughts? Are big-name treats a trend or are they here to stay?
Looking for a treat for yourself? Join us at the second edition of Vet Show @ Home, Thursday-Saturday, March 25-27th. Gain access to over 90 hours of content from top speakers, networking opportunities, the chance to earn up to 20 CE credits, and so much more. 100% FREE. Register today to save your spot!
_
For press inquiries (like you have a great story you'd love us to write about) please contact i.perlman@closerstillmedia.com