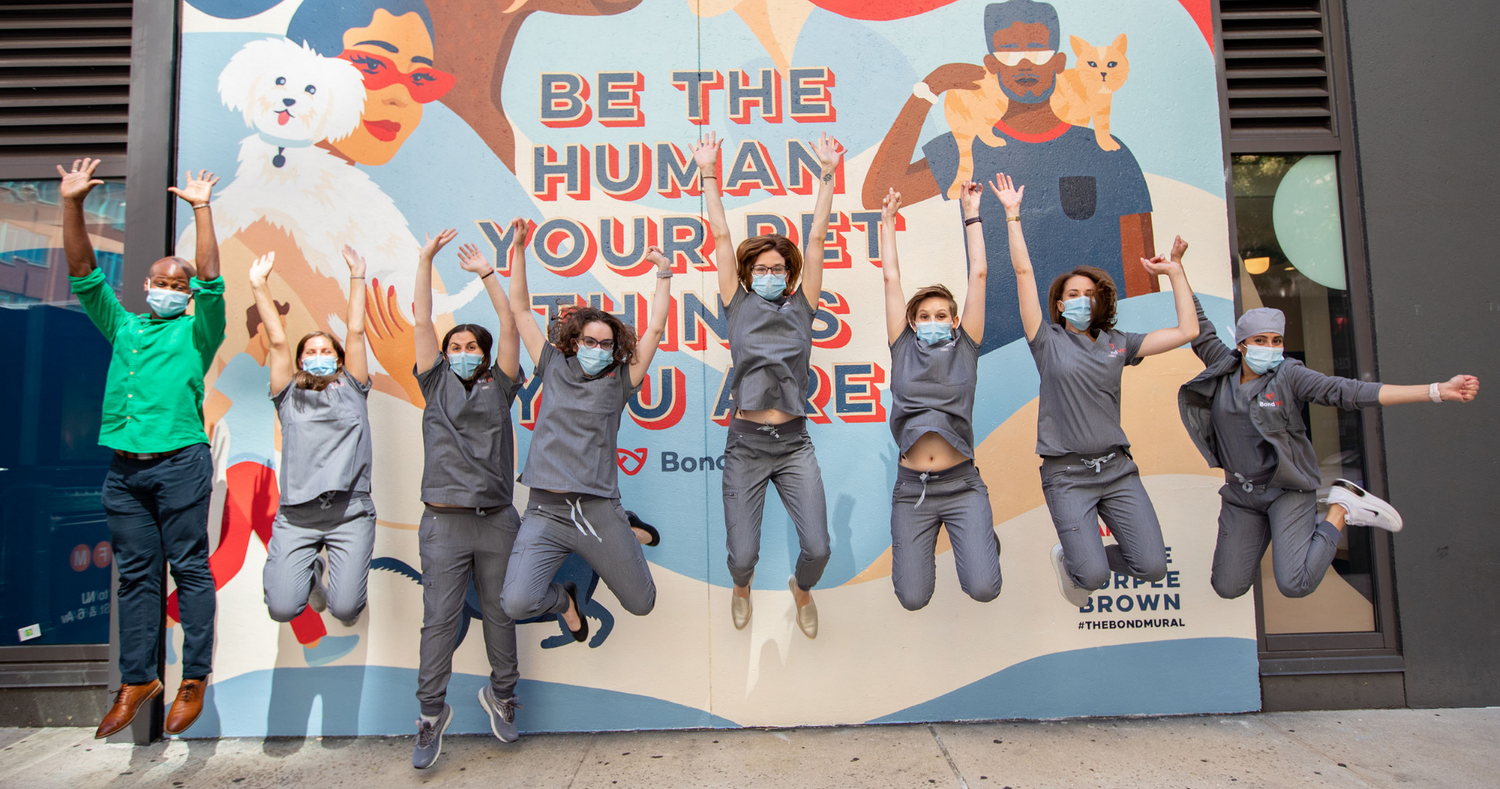 In early August, the New York Times published the article, "A Rare Economic Bright Spot in the U.S. Health System: The Vet's Office," which pointed out several veterinary clinics across the country that have had to hire new staff, seen increased revenue, and some that have had to limit their number of new patients.
During a time in which most human health practices have had to shut down, furlough workers, and even "lose billions from the cancellations of lucrative elective operations," according to the Times article, many vet clinics have continued to thrive.
Back in May, we spoke to Bond Vet, a local vet clinic and friend of New York Vet, to find out how they were making it through as a startup during the pandemic. This spotlight on Bond Vet looked into their story, their team's handling of curbside care, using telehealth, donating PPE, and well-being for veterinary professionals.
When we look at how Bond Vet is doing 6 months later, we can see a prime example of why this vet's office is not only a "rare economic bright spot" (as the Times article's title suggests) in the U.S. health system but also a bright spot in the pet care system during the pandemic and beyond.
Bond Vet is unique in many ways: they are female-led (by founder Dr. Zay Satchu), offer walk-ins, provide both urgent and primary care, and even utilize proprietary software to communicate with pet parents. As of November 12th, 2020, Bond Vet has raised $17M in Series A funding from their investing partner. Their first clinic opened a little over a year ago in June 2019 and today, they have plans to open 5+ more clinics by the end of 2021.
Co-founder and CEO of Bond Vet, Mo Punjani, says, "We've seen more than 13,000 pets since we launched our very first clinic, and it's clear that there is consumer demand for a new kind of veterinary experience." According to the New York Times article, many vets believe that the uptick in visits can be attributed to the fact that with more time spent at home, pet parents pay more attention to the intricacies of their pets.
Perhaps this experience has made clients more aware of the importance of wellness visits for their pets (one would hope). Clinics like Bond Vet certainly make it easy for clients, with same-day appointments, convenient hours, and transparent pricing. They also make life easy for their own teams by prioritizing well-being, utilizing cross-training, and providing a thorough continuing education program.
For practice owners and managers looking to expand their practice, especially during this time of economic opportunity for veterinary clinics, Bond Vet is a great example of the future and success of a different kind of vet clinic.
Want to stay up-to-date on the latest veterinary news, stories, wellbeing, and show info? Sign up for our monthly newsletter now!
News for You
We're sorry, but we couldn't find any results that match your search criteria. Please try again with different keywords or filters.