Silver Linings from the Animal Kingdom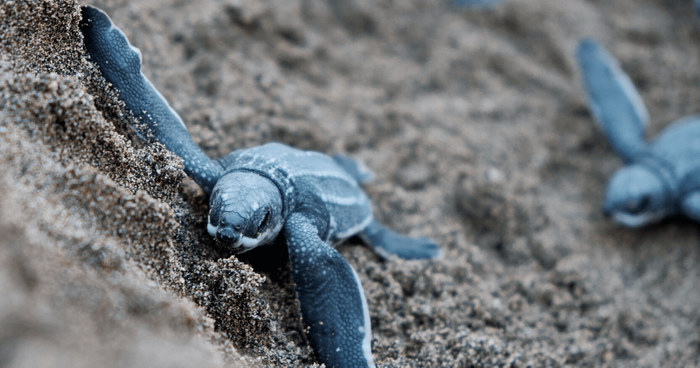 We know what you're thinking: every time you turn on the radio for your commute, watch TV after a long day or scroll on social media during your lunch break, it's news story after news story about the negative impacts of COVID-19.
In the past couple of months, the world has seen a flood of good news from the animal kingdom. From the Rottweiler in Maryland who's delivering health kits to frontline hospital workers, to a pair of giant pandas in a Hong Kong zoo who've finally been able to mate in peace to preserve their species, we're bringing you the best COVID-19 silver linings from the animal kingdom to help brighten your day.
Loki the Therapy 'Dogtor' Delivers Thousands of Hero Healing Kits to ICU Nurses
Loki is a 2-year-old Rottweiler who loves helping out on the frontlines. Loki and her owner, Caroline Benzel, had spent their free time doing therapy sessions at the University of Maryland Medical Center; but when the hospital passed visiting restrictions due to COVID-19, they turned to video-conferencing visits instead. Caroline noticed the physical effect that PPE had on the hospital workers, and decided to raise money to create her own Hero Healing Kits, filled with self-care items like lotions, medicated powder, and more. Loki got to put on scrubs once again to help deliver 1,200 kits to the hospital. Their story inspired similar pet projects across the country, showing the power our pets can have on the kindness and happiness of others.
China Bans Trade and Consumption of Wild Animals
In February, a ban was placed on the farming and consumption of wild animals after it was detected that the spread of coronavirus came from a wildlife market in the city of Wuhan. The Wildlife Conservation Society's chief global veterinarian, Christian Walzer, called it a "big step in the right direction." Shenzen took the ban a step further and became the first Chinese city to ban the sale and consumption of dog and cat meat as of May 1st. In China, approximately 10 million dogs and 4 million cats are killed each year; however, the majority of Chinese citizens have never, and would never, consume dog/cat meat. Humane Society International China policy specialist, Dr. Peter Li, said, "This really could be a watershed moment in efforts to end this brutal trade." Of course, it would be ideal if events like this wouldn't have to be the cause for intervention, but sometimes disaster leads to development. And in the history of Chinese practices, this is a huge development.
The Leatherback Sea Turtle Comes Out of Its Shell from Thailand to Florida
What's something Thailand and Florida have in common? Other than the increase in leatherback sea turtle nests, we're not sure! After Thailand placed restrictions on international flights and large gatherings, the country saw nesting of the otherwise endangered sea turtles for the first time in 5 years. The largest of all living turtles, these leatherbacks made 11 nests on Thai beaches, which is more than any time in the last 20 years. Similarly, restrictions on beach outings made way for greater nesting in Juno Beach, Florida the most densely nested sea turtle beach in the world. Marine life staff in the area marked 76 nests, which they said is a significant increase over last year. If the numbers continue, this could be an important boost for the at-risk species. The stay-at-home orders in both places reduced human activity on beaches, teaching people the importance of respecting the land and reducing congestion in these areas.
Hong Kong Zoo's Giant Pandas Finally Mate in Peace After 13 Years
Pandas need privacy too! Ocean Park Zoo in Hong Kong is the home of Le Le and Ying Ying, two giant pandas that zookeepers have been hoping to see mate for the past 13 years to help preserve their vulnerable species. Female pandas have an extremely short window of fertility (1-3 days per year) and all bears are known for their low libido. As of January 26th, the zoo was closed to the public because of COVID-19, and either by coincidence or by finally having some alone time, Le Le and Ying Ying mated. For the purpose of seeing the lightness in the dark, we're going to go with saying they just needed some privacy.
It goes without saying that we wish this pandemic never happened, that we could reunite with our loved ones and that all would be good in the world, but...every cloud has a silver lining. These stories show us that there is some good we can take away from all of this, big and small.
Want to see more positive and inspiring news stories? Sign up for the Vet Show Newsletter, where you'll find the latest veterinary news, stories, interviews, and show info!