21 Apr 2022
Veterinary Conference Chicago Vet is Back in the Windy City May 12th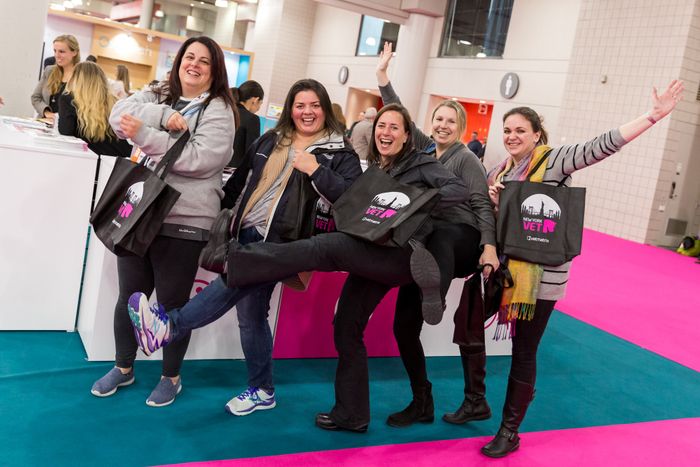 NEW YORK, April 21, 2022 – After nearly three years, the US Vet Shows team is excited to be back in the Windy City for the Chicago Vet Show, now a 2-day educational veterinary conference, taking place at Festival Hall on Navy Pier in Chicago, from May 12-13. Chicago Vet will provide professionals within the veterinary industry the opportunity to continue their education, network with peers and get a glimpse at the latest innovative technology.
"We cannot wait to be back in the beautiful city of Chicago and are looking forward to bringing local veterinary professionals, thought leaders and experts together to continue to grow their practices and knowledge," said Christina Zoccoli, Group Event Director, US Vet Shows. "Chicago Vet has something for everyone including clinical, business and practice management sessions with world class speakers and exciting exhibitors showcasing leading products and technologies."
Featuring a comprehensive continuing education (CE) program, Chicago Vet attendees can earn a total of 20 CE credits through the American Association of Veterinary State Boards' (AAVSB) Registry of Approved Continuing Education (RACE), as well as Certified Veterinary Practice Manager (CVPM) for non-medical sessions. Chicago Vet contains three clinical tracks, as well both a veterinary technician and nursing program and business track, all presented in a session format by world-class speakers sharing their veterinary industry insights, expertise and knowledge. Highlights of sessions include:
Morphology Matters: When Red Blood Cell Abnormalities Lead to the Diagnosis (Clinical)
Speaker: Kate Baker, DVM, MS, DAVCP (Clinical Pathology) - Veterinary Clinical Pathologist, Veterinary Cytology Schoolhouse
Evaluation of the blood smear is a crucial part of the diagnostic workup in patients with anemia. As part of this evaluation, red blood cell morphology is assessed for any abnormalities. There are a number of red blood cell morphologic abnormalities that can be found on the blood smear which carry varying clinical relevance. In this session, three patients with mystery illnesses will be presented where red blood cell morphologic abnormalities were revealed upon blood smear examination and led to a diagnosis.

Compassion Satisfaction in the Veterinary Industry (Business)
Speaker: Beckie Mossor, RVT - Program Director at Gurnick Academy of Medical Arts
There is undoubtedly a crisis in veterinary medicine regarding compassion fatigue, burnout, depression and unhealthy coping. The leaders across the industry are working hard to identify causes, bring the conversation to the forefront and frankly cease the suicide crisis our profession is facing. But what is the answer? How do we combat compassion fatigue? There are a lot of conversations out there about self-care, a critical aspect of tackling the dark side of the profession we love. But there is also the less talked about, Compassion Satisfaction, or the pleasure you derive from doing your work. This lecture takes the Marie Kondo approach to our professional lives by focusing on compassion satisfaction, what it is, how to find it, share it, and create joy in your professional life again by focusing on what brings you joy and eliminating what doesn't whenever possible.

Clickers, Whistles, and Markers... Oh My! The Basics of Pet Training (Vet Tech)
Speaker: Rachel Lees, LVMT, KPA, CTP, FFCP, VTS (Behavior) - Senior Veterinary Technician/ Veterinary Behavior Technician, University of Tennessee College of Veterinary Medicine
In our studies, we do not get much education on pet training. We learn the basics of reinforcement, punishment, etc. but then start to pick things up as we move along in veterinary medicine. This topic will focus on the basics of animal training, discussion of the tools and techniques used, plus the current recommendations given by the American College of Veterinary Behavior. Come to refresh your memory and open your eyes to the world of animal training!

Effects of The Opioid Epidemic In Veterinary Medicine
Speaker: Jack Teitelman - President of The Titan Group
America's opioid epidemic has been fueled by aggressive prescribing practices, highly prevalent opioid abuse and misuse, and rising rates of opioid overdose-related deaths. This presentation will discuss what began as an epidemic on the human side has evolved into a crisis effecting the veterinary community. Attendees will become educated regarding veterinarians and their relationship to America's Opioid Epidemic in addition to how to protect against the resulting internal and external threats facing the industry.
Additionally, the United States Department of Agriculture's National Veterinary Accreditation Program will be offering select modules of its APHIS Approved Supplemental Training which provide credit towards accreditation renewal. Over the two days of Chicago Vet, a total of 10 modules will be offered, including Preventing Disease Introduction and Spread, International Movement of Horses, Evaluation of Aquatic Animals for Detection of Reportable Diseases and Pathogens, The Role of Veterinarians in Honeybee Health and more.

Produced by CloserStill Media, Chicago Vet will take place at Festival Hall at Navy Pier in Chicago, IL. To register and for additional information, visit https://us.vetshow.com/chicago.
About CloserStill Media
CloserStill Media specializes in high value, content driven events and the nurturing of B2B or professional communities. The company operates chiefly in the healthcare and technology markets with events in London, Birmingham, Paris, Frankfurt, Hong Kong, Singapore and New York City. Our portfolio includes some of the fastest growing, and often award winning, events including the London Vet Show, Cloud Expo Europe, The Pharmacy Show, Learning Technologies and The Dentistry Show.
CloserStill is the fastest growing British exhibition organizer in international markets according to the eighth annual Sunday Times International Track 200. In addition, the Financial Times FT1000 Index named CloserStill the fastest growing exhibition organizer in Europe. CloserStill's ranking is the highest of any exhibition organizer since the Sunday Times Fast Track series inception.
In the last seven years, CloserStill has been repeatedly recognized as a leading innovator with its teams and events winning multiple awards (over 30 in total) including Best Marketing Manager—five years in succession—Best Trade Show, Best Launch Exhibition, Best Brand Extension, Rising Star—two years in succession—Best Operations Manager, Best Sales Person, Management Team of the Year and was voted 'Most Respected Company of the Year' at the 2016 Association of Event Organizers Excellence Awards.
Media Contact:
Nicole Francisco
Coyne Public Relations
973-588-2000
nfrancisco@coynepr.com