10 Jan 2022
Veterinary Conference Launches Registration for Inaugural Austin Vet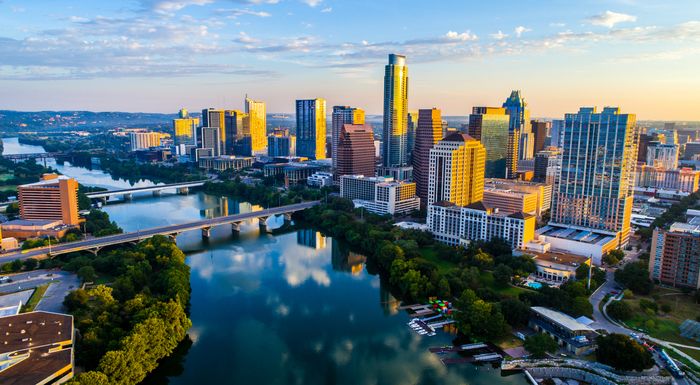 NEW YORK, January 10, 2022 /PRNewswire/ Austin Vet, a 2-day educational veterinary conference, announced today that registration is now open for its first-ever in-person event for veterinary professionals in Austin at the Austin Convention Center April 5-6, 2022. Rescheduled from June 2021 due to COVID-19 restrictions, Austin Vet will safely gather attendees in person, providing veterinary professionals with a conference experience that features innovative veterinary content in a multi‑theater program.
"We are so happy to finally be able to launch registration for our Austin Vet show, which we look forward to bringing to this new location," said Christina Zoccoli, Group Event Director, US Vet Shows. "Austin has such a vibrant community, and we can't wait to safely gather local veterinary professionals to network, inspire and learn from one another, as they broaden their skillset to provide their patients the highest quality of care."
Ranked #13 on U.S. News & World Report's list of "Fastest-Growing Places," Austin is a highly accessible destination that continues to flourish, which attracted US Vet Shows to add the city to its roster of conferences. Austin Vet will bring the unique, best-in-class model of US Vet Shows to an important region, by offering fresh new innovative content to a wider market.
The conference will feature speakers with extensive veterinary practice experience, who will engage the audience and deliver education in captivating presentations. With a comprehensive continuing education (CE) program, there are a total of 17 CE credits that can be earned through the American Association of Veterinary State Boards' (AAVSB) Registry of Approved Continuing Education (RACE). Featuring three clinical tracks, as well as a veterinary technician track and a business theater, sessions will be led by veterinary thought leaders including:
Odie Marcovici, VCA Recruiting and Professional Relations Director

Dr. "Odie" Marcovici is a well-connected and respected veterinarian with an exceptional grasp of the profession thanks to experience in almost all aspects of small animal practice. As the Recruiting and Professional Relations Director for VCA, he has recruited every type of veterinary professional and tries to effect positive change in the profession one hire at a time by "putting good people in good hospitals," which he discusses in his presentations.

Katie Tolbert, DVM, Ph.D., DACVIM

Dr. Katie Tolbert is a clinical associate professor in the Gastrointestinal Laboratory at Texas A&M University, as well as a Clinical Veterinary Instructor at North Carolina State University. She is pursuing an alternate-track residency in small animal nutrition at the University of Tennessee, where her research program is focused on the treatment of acute and chronic gastrointestinal diseases in dogs and cats. She has published over 60 peer-review manuscripts and received the Zoetis award for Excellence in Veterinary Research in 2018.

Holly Brown- DVM, PhD, DACVP

Dr. Holly Brown worked in small animal practice before returning to her alma mater, University of Georgia (UGA), for a residency and PhD in clinical pathology. She remained as a faculty member at UGA where she served as a diagnostic pathologist, instructor and collaborative researcher before joining VCA Metzger Animal Hospital's general, referral, and emergency practice in Pennsylvania in a unique position as an on-staff clinical pathologist. There she adds her expertise patient-side to a wide variety of clinical cases and enjoys opportunities to provide education on maximizing laboratory diagnostics.
Sponsor-led workshops will also allow attendees to practice their skills or learn new ones as they ask the questions they've always wanted answers to. Taught by industry professionals and sponsored by Johnson & Johnson, these small-scale wet labs offer hands-on experience and personal feedback, allowing attendees to truly hone their skills.
Additionally, over 200 exhibiting vendors will showcase the best tools and solutions available in the veterinary marketplace.
Produced by CloserStill Media, Austin Vet will take place at the Austin Convention Center in Austin, TX. To register and for additional information, visit https://us.vetshow.com/austin/sum.
###
About CloserStill Media:
CloserStill Media specializes in high value, content driven events and the nurturing of B2B or professional communities. The company operates chiefly in the healthcare and technology markets with events in London, Birmingham, Paris, Frankfurt, Hong Kong, Singapore and New York City. Our portfolio includes some of the fastest growing, and often award winning, events including the London Vet Show, Cloud Expo Europe, The Pharmacy Show, Learning Technologies and The Dentistry Show.
CloserStill is the fastest growing British exhibition organizer in international markets according to the eighth annual Sunday Times International Track 200. In addition, the Financial Times FT1000 Index named CloserStill the fastest growing exhibition organizer in Europe. CloserStill's ranking is the highest of any exhibition organizer since the Sunday Times Fast Track series inception.
In the last seven years, CloserStill has been repeatedly recognized as a leading innovator with its teams and events winning multiple awards (over 30 in total) including Best Marketing Manager—five years in succession—Best Trade Show, Best Launch Exhibition, Best Brand Extension, Rising Star—two years in succession—Best Operations Manager, Best Sales Person, Management Team of the Year and was voted 'Most Respected Company of the Year' at the 2016 Association of Event Organizers Excellence Awards.
Media Contact:
Nicole Francisco
Coyne Public Relations
973-588-2000