03 Jun 2022
That's a Wrap! US Vet Shows Successfully Debuts in Austin Followed by Highly Anticipated Return to Chicago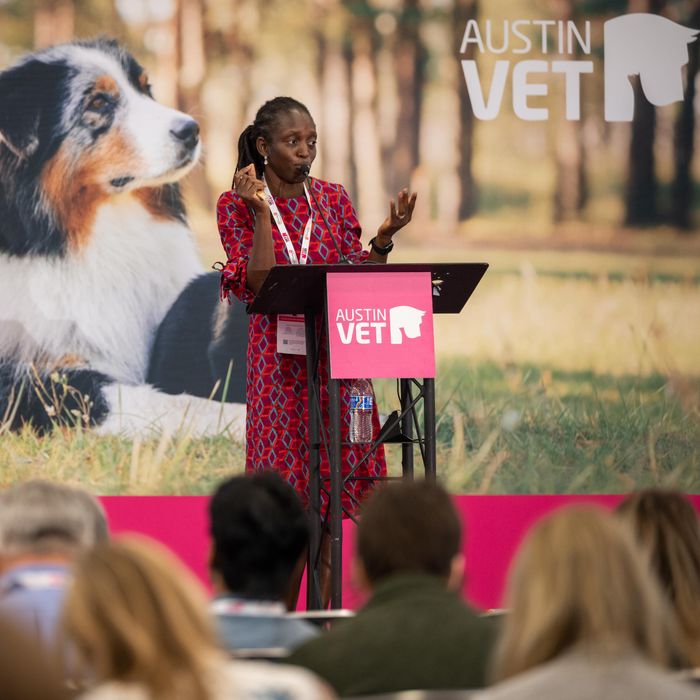 NEW YORK, June 3, 2022 – In the past two months, the US Vet Shows team executed its first-ever educational veterinary conference in Austin followed by a return to Chicago to host its annual vet show. Both conferences provided thousands of veterinary professionals with two days of education, networking and insights into the latest veterinary industry trends, as well as fun events to participate in and attend.
"It was truly wonderful to be able to bring the veterinary community together in the music capitol of the world, Austin, for the very first time. We were all excited to offer new experiences for our attendees, such as workshops and goat yoga," said Christina Zoccoli, Group Event Director, US Vet Shows. "We followed up Austin by heading to bustling Chicago where we hadn't been since 2019! With new branding, a new hotel, another round of goat yoga and a popular animal lover who also happens to be a platinum-selling country music singer/songwriter, we offered attendees some fun while also giving them access to world-class speakers and vendors who were ready to fulfill any of their practice needs."
At Austin Vet, attendees were provided with various educational and fun opportunities including:
More than 50 hours of educational sessions and a total of 17 CE credits that could be earned, as well as practical workshops with Orthomed on topics such as cranial cruciate ligament deficiency and two hand-on labs with Johnson & Johnson. There were also more than 150 suppliers and exhibitors to meet with on-site on the show floor.
Goat yoga sessions each morning of the show, hosted by GOGA, a local Bee Cave, TX yoga studio. The combination of stress relief and the cuteness of 12 baby Pygmy Nigerian Dwarf goats, was a hit amongst attendees, as each session was full!
Chicago Vet offered professionals access to veterinary industry insights and expertise, as well as after-hour events, including:
Ten modules with the United States Department of Agriculture's National Veterinary Accreditation Program and the opportunity for veterinary professionals to receive a total of 20 CE credits by attending sessions hosted by internationally recognized speakers. Attendees could also meet with more than 200 exhibitors from big brands to local companies that were on-site showcasing the latest innovations in the veterinary industry.
Platinum-Selling Country Music Singer/Songwriter and fellow animal lover, Scotty McCreery, performed at a private, opening night party, which was co-hosted with Chicago Veterinary Medical Association (CVMA) and benefited the Chicago Veterinary Medical Foundation.
CloserStill Media, the producer of the US Vet Shows, also launched its philanthropic giving initiative named The Vet Shows' Support at Austin Vet. The goal of the program is to give back to local animal shelters within the city of the show. In Austin, the show supported the Austin Animal Center by providing both a monetary donation and encouraging Austin Vet show attendees to decorate bandanas that were then donated to the shelter's animals. In Chicago, The Vet Shows' Support initiative carried on its work and partnered with PAWS Chicago, who exhibited on the show floor to help spread awareness within the community by promoting the importance of volunteering. A monetary donation and bandanas, decorated by showgoers, were also gifted to the shelter.
Visit https://us.vetshow.com/ for the latest information about upcoming veterinary conferences in Reno in October and New York in November.
About CloserStill Media
CloserStill Media specializes in high value, content driven events and the nurturing of B2B or professional communities. The company operates chiefly in the healthcare and technology markets with events in London, Birmingham, Paris, Frankfurt, Hong Kong, Singapore and New York City. Our portfolio includes some of the fastest growing, and often award winning, events including the London Vet Show, Cloud Expo Europe, The Pharmacy Show, Learning Technologies and The Dentistry Show.
CloserStill is the fastest growing British exhibition organizer in international markets according to the eighth annual Sunday Times International Track 200. In addition, the Financial Times FT1000 Index named CloserStill the fastest growing exhibition organizer in Europe. CloserStill's ranking is the highest of any exhibition organizer since the Sunday Times Fast Track series inception.
In the last seven years, CloserStill has been repeatedly recognized as a leading innovator with its teams and events winning multiple awards (over 30 in total) including Best Marketing Manager—five years in succession—Best Trade Show, Best Launch Exhibition, Best Brand Extension, Rising Star—two years in succession—Best Operations Manager, Best Sales Person, Management Team of the Year and was voted 'Most Respected Company of the Year' at the 2016 Association of Event Organizers Excellence Awards.
Media Contact:
Nicole Francisco
Coyne Public Relations
973-588-2000
nfrancisco@coynepr.com