20 Oct 2021
Veterinary Conference New York Vet Returns to Javits Center November 4th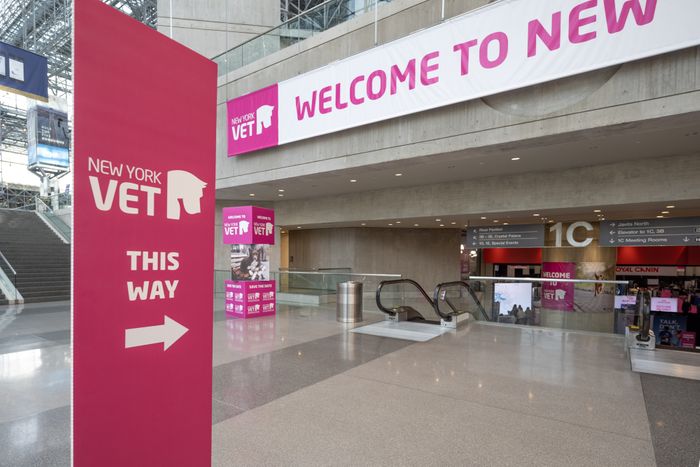 NEW YORK, October 20, 2021 /PRNewswire/ New York Vet, a 2-day educational veterinary conference, is returning to the Jacob Javits Convention Center in New York City from November 4-5. After postponing last year's event due to COVID-19 restrictions, New York Vet will safely gather attendees in person for a high-quality conference offering three clinical tracks, a business theater, a veterinary technician track and sponsor-led innovation workshops.
"We can't wait to be back in New York City with our veterinary community!" said Christina Zoccoli, Group Event Director, US Vet Shows. "New York Vet offers something for everyone – practical training with clinical programs, continuing education, networking and the opportunity to interact with other industry professionals for a fun, robust learning experience."
The conference will feature speakers who are leading thinkers, visionaries and practitioners, presenting in a session format. The veterinary industry experts will offer expertise on a variety of practical topics with functional takeaways. With a comprehensive continuing education (CE) program, sessions are available for CE credit through the American Association of Veterinary State Boards' (AAVSB) Registry of Approved Continuing Education (RACE). Highlights of this year's sessions include:
It's Time To Think Beyond Chicken and Rice for Gastrointestinal Problems (Clinical/Nutrition)
Speaker: Martha Board Certified Veterinary Nutritionist - Red Bank Veterinary Hospitals
"Feed your dog a bland diet of chicken and rice" is a common dietary recommendation when pets present with gastrointestinal signs. Can we do better? This lecture will review dietary strategies for common gastrointestinal presentations in both general and emergency practice.

Surgical Tooth Extraction in Dogs: Learn From My Mistakes! (Clinical/Dentistry)
Speaker: Managing Partner - Center Veterinary Dentistry
Diseased carnassial and canine teeth in dogs are challenging extractions. Generally, surgical methods are used to extract these teeth including mucoperiosteal flap elevation, buccal alveolar bone removal, crown sectioning, crown-root elevation, osteoplasty, bone augmentation, and wound closure. In this lecture, clinical cases will be used to show how to extract the maxillary fourth premolar, first mandibular molar, maxillary canine, and mandibular canine teeth in the dog, step-by-step.

Bring Your A Game To The C-Section: Anesthesia Tips For Pregnant Patients (Vet Tech/Anesthesiology)
Speaker: Tasha McNerney Anesthesia Technician - Veterinary Anesthesia Nerds
Pregnant patients that require anesthesia, and patients undergoing caesarian section procedures present unique anesthetic considerations from a physiology and pharmacology standpoint. Together we will discuss ways to make these anesthetic events as safe as possible for this set of patients.

Cancer Cliff Notes (Vet Tech/Oncology)
Speaker: Jenny Fisher, Director Of Education - PractiVet
This lecture will provide an overview of veterinary oncology. From basic cancer biology to common tumor types and cancer treatments, this overview provides a strong foundation of basic oncology knowledge.

Yes, They're Googling You: Managing Your Online Reputation (Business/Social Media)
Speaker: Caitlin DeWilde, Founder, Veterinarian - The Social DVM, LLC
Even though we'd all love to pretend otherwise, your practice and veterinarians are definitely being googled -- by existing and potential clients. Even if your practice doesn't want to maintain online reputation sites like Google, Yelp and Nextdoor, these platforms will collect and display information about your practice regardless. It's better to be proactive and ensure the best and most correct info is presented, and to allow your practice the best chance at defending itself against negative reviews.

Personal Innovation: Doing Life On Purpose (Business/Personal Innovation)
Speaker: Mia Cary, CEO & Change Agent - Cary Consulting
Business model innovation can have a stronger, swifter impact on profit margins than service or product innovation, it can disrupt established industries, and it can lead to exciting and vibrant cultures that attract top talent. So what about personal innovation? During this interactive and fun program Dr. Mia Cary will facilitate a conversation centered on five building blocks of personal innovation that mirror the cornerstones of business model innovation. Participants are invited to create an actionable personal innovation roadmap that includes tips and tools for preventing and overcoming barriers to professional growth and personal innovation.
Attendees will also have the opportunity to practice their skills, learn new ones and get real-time feedback with the small-scale hands-on lab, sponsored by Johnson & Johnson. Offering real experience and continuing education credits, "Wound Closure Academy: Suturing and Advanced Knot-Tying for Procedural Closures" will be presented in two sessions by J. Brad Case and Lynetta Freeman provide training on suturing patterns and advanced knot-tying techniques used in veterinary surgical cases.
In addition to the sessions, more than 150 exhibitors from big brands to local companies will be showcasing the latest innovations the veterinary industry has to offer, including the New York Veterinary Medical Associations Theater, a joint project of The Veterinary Medical Association of New York City and New York State Veterinary Medical Society.
Produced by CloserStill Media, New York Vet will take place at the Jacob Javits Convention Center in New York. For additional information, visit https://us.vetshow.com/new-york.
###
About CloserStill Media
CloserStill Media specializes in high value, content driven events and the nurturing of B2B or professional communities. The company operates chiefly in the healthcare and technology markets with events in London, Birmingham, Paris, Frankfurt, Hong Kong, Singapore and New York City. Our portfolio includes some of the fastest growing, and often award winning, events including the London Vet Show, Cloud Expo Europe, The Pharmacy Show, Learning Technologies and The Dentistry Show.
CloserStill is the fastest growing British exhibition organizer in international markets according to the eighth annual Sunday Times International Track 200. In addition, the Financial Times FT1000 Index named CloserStill the fastest growing exhibition organizer in Europe. CloserStill's ranking is the highest of any exhibition organizer since the Sunday Times Fast Track series inception.
In the last seven years, CloserStill has been repeatedly recognized as a leading innovator with its teams and events winning multiple awards (over 30 in total) including Best Marketing Manager—five years in succession—Best Trade Show, Best Launch Exhibition, Best Brand Extension, Rising Star—two years in succession—Best Operations Manager, Best Sales Person, Management Team of the Year and was voted 'Most Respected Company of the Year' at the 2016 Association of Event Organizers Excellence Awards.
Media Contact:
Nicole Francisco
Coyne Public Relations
973-588-2000
nfrancisco@coynepr.com