16 Nov 2021
Veterinary Conference Took a Bite Out of the Big Apple with Successful Return of New York Vet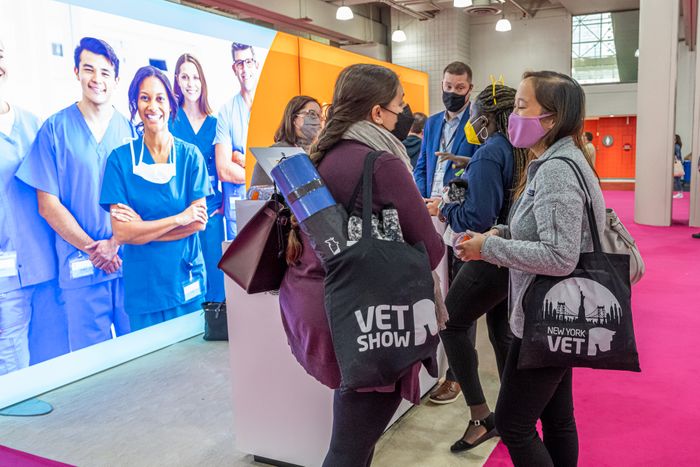 NEW YORK, November 16, 2021 /PRNewswire/ Less than two weeks ago marked the successful return of New York Vet, a 2-day educational veterinary conference that was postponed last year due to COVID-19 restrictions. Veterinarians, veterinary technicians, practice managers, owners and industry professionals reunited for the event, produced by CloserStill Media, which provided attendees practical training with clinical programs, continuing education and networking opportunities within the veterinary industry.
"It was wonderful to once again gather with our friends and colleagues in New York City for a successful event!" said Christina Zoccoli, Group Event Director, US Vet Shows. "From our clinical tracks to our business theater to our innovation workshops, New York Vet offered a unique opportunity for practical education within our amazing veterinary community."
With 52 world-class speakers leading more than 80 conference sessions, New York Vet extended expertise in various practice areas including business, vet tech and clinical, and highlighted important topics such as oncology, anesthesiology and personal innovation. Attendees also had the opportunity to practice their skills, learn new ones and get hands on training on suturing patterns and advanced knot-tying techniques used in veterinary surgical cases in the Wound Closure Academy hands-on lab, sponsored by Johnson & Johnson. To support and encourage continuing education, sessions were available for CE credit through the American Association of Veterinary State Boards' (AAVSB) Registry of Approved Continuing Education (RACE).
In addition, the latest innovations from the veterinary industry were showcased by more than 150 exhibitors, including the New York Veterinary Medical Associations Theater, a joint project of The Veterinary Medical Association of New York City and New York State Veterinary Medical Society.
Visit https://us.vetshow.com/ for the latest information about next year's veterinary conferences, which will kick off April 5, 2022 in Austin.
###
About CloserStill Media
CloserStill Media specializes in high value, content driven events and the nurturing of B2B or professional communities. The company operates chiefly in the healthcare and technology markets with events in London, Birmingham, Paris, Frankfurt, Hong Kong, Singapore and New York City. Our portfolio includes some of the fastest growing, and often award winning, events including the London Vet Show, Cloud Expo Europe, The Pharmacy Show, Learning Technologies and The Dentistry Show.
CloserStill is the fastest growing British exhibition organizer in international markets according to the eighth annual Sunday Times International Track 200. In addition, the Financial Times FT1000 Index named CloserStill the fastest growing exhibition organizer in Europe. CloserStill's ranking is the highest of any exhibition organizer since the Sunday Times Fast Track series inception.
In the last seven years, CloserStill has been repeatedly recognized as a leading innovator with its teams and events winning multiple awards (over 30 in total) including Best Marketing Manager—five years in succession—Best Trade Show, Best Launch Exhibition, Best Brand Extension, Rising Star—two years in succession—Best Operations Manager, Best Sales Person, Management Team of the Year and was voted 'Most Respected Company of the Year' at the 2016 Association of Event Organizers Excellence Awards.
Media Contact:
Nicole Francisco
Coyne Public Relations
973-588-2000
nfrancisco@coynepr.com