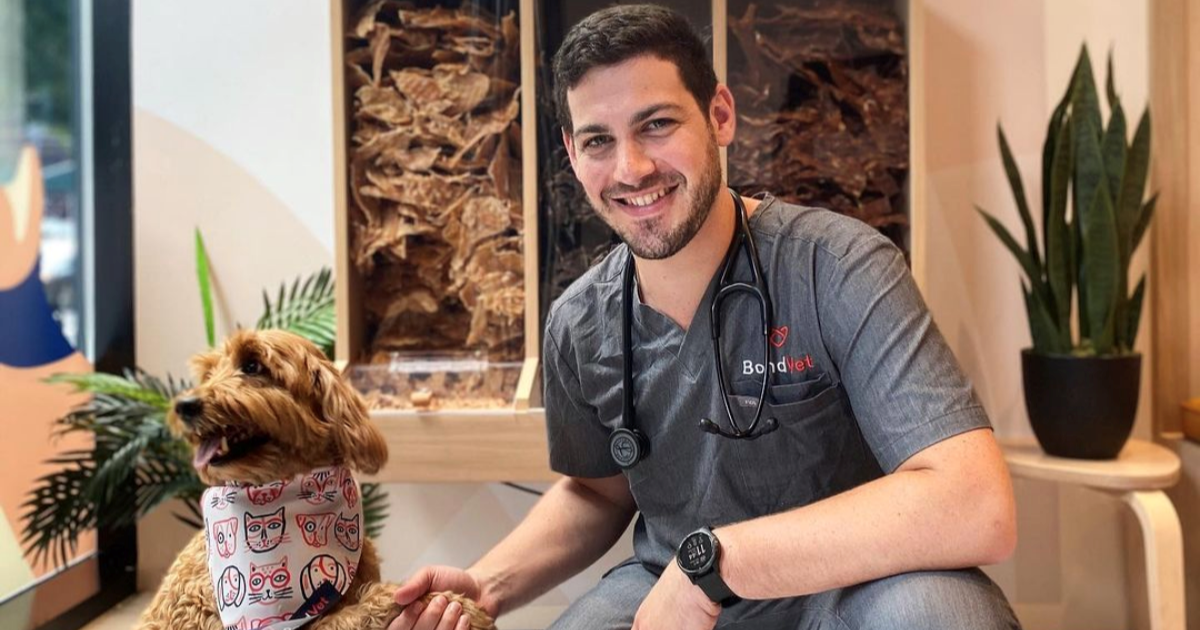 The purpose of the Vet Show Spotlight is to recognize the unsung heroes of the veterinary profession, the ones who often do the most and complain the least, are patient with clients despite a busy schedule and are always willing to lend a helping hand.
This description fits Dr. Kimmelstiel, our first-ever Vet Show Spotlight feature, like a glove. After receiving 9 different nominations, we believe he definitely deserves a chance in the spotlight.
Who is Dr. Kimmelstiel?
Dr. Jeremy Kimmelstiel is not your typical Medical Director/Veterinarian. Besides being absolutely adored by his team over at Bond Vet, he enjoys hobbies out of the ordinary, such as snowboarding, beekeeping, and brewing his own beer.
When asked about his leadership style, Dr. Kimmelstiel said his "approach to medicine is friendly and approachable. My team maintains their obsession with pets and their compassion if they see their leaders doing that daily." He believes that his biggest motivation is the everyday success of his team, and takes joy in watching them grow both personally and professionally.
Despite graduating from one of the top veterinary schools in the country (UPenn's School of Veterinary Medicine), Dr. Kimmelstiel says that his greatest accomplishment is "the ability to practice first-class veterinary medicine alongside a crew of dedicated and insightful individuals." A true leader and believer in team spirit, Dr. Kimmelstiel is purely grateful for the opportunity to work with a team that provides the expert-level of care that they do: "The feeling is unparalleled," he says.
Dr. Kimmelstiel's most important advice for the veterinary community during these times? To take care of yourself physically and mentally:
"As members of the veterinary space, we uniquely impact our communities. The role we take in providing optimal patient care may oftentimes leave us feeling tired, or numb. In these times consider the prioritization of work-life balance as it pertains to mental health. Focus on building yourself up: getting adequate rest, engaging in regular physical activity, sharing challenges, and success with your colleagues. In this way, we can be the best doctors, nurses, and support staff for our animal companions."
Reason for nomination
Dr. Kimmelstiel is genuinely loved and appreciated by his team—you can tell just from some of the stories told by them about Dr. K. "Compassionate" is one of the many words that come up frequently when asked the reason for his nomination.
"Dr. Kimmelstiel does it all!" one submission tells us: "From puppy visits to emergency mid-day surgery, he handles every task he is presented with quickly and efficiently with compassion towards the patients and empathy towards the owners. He leads his team with confidence and always takes the time to teach. He is a wonderful mentor and a prime example of a veterinarian who leads from the front, but also helps you along the way."
Other team members agree, stating that Dr. Kimmelstiel is always ready to take on challenges and to go the extra mile for his clients. Another submission is a true example of what made this decision of selecting Dr. Kimmelstiel so easy:
"I came into the veterinary world with absolutely zero experience or knowledge, Dr. Kimmelstiel is one of the people who have helped me change that. Watching him do his job so flawlessly every day is a gift in itself. Getting to learn from him every day is a privilege I'll never take for granted. He teaches and shares his knowledge with every opportunity he gets, all while taking amazing care of the pets of the upper west side of New York. I honestly don't know how he does it but he does, and he does a fantastic job at it. That is exactly why Dr. Kimmelstiel deserves to be featured in the Vet Show Spotlight."
If there's a colleague, employee, manager in your life that you believe is deserving of a moment in the spotlight, maybe someone doing big things in veterinary medicine, nominate them today for the chance to be featured in next month's Vet Show Spotlight.
Join us at the second edition of Vet Show @ Home, Thursday-Saturday, March 25-27th. Gain access to over 90 hours of content from top speakers, networking opportunities, the chance to earn up to 20 CE credits, and so much more. 100% FREE. Register today to save your spot!
For press inquiries, please contact i.perlman@closerstillmedia.com
News for You
Your search returned no results